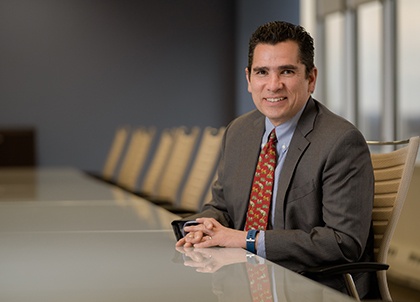 Regis
M.
Quirin
Profile
Regis is the firm's Chief Risk Officer, responsible for identifying, analyzing, and mitigation of events that could threaten the firm. He manages the firm is in compliance while monitoring procedures that might give risk to exposure. Regis joined the firm in 2018 and served as Chief Financial Officer to 2021.
Prior to joining PIB Law, Regis began his career in finance at JPMorgan Chase, where he served in various positions including Financial Planning & Analysis, Reinsurance, Market Research and as a manager of the Fair Lending Program. In his fourteen years at JPMorgan Chase, Regis managed large teams of individuals, launched joint venture companies, performed profitability analyses, managed financial planning, budgeting, forecasting and expense control functions and developed financial forecasting models. Regis also worked as Vice President, Financial Planning & Analysis at GMAC ResCap, where he directed the financial management activities for the Business Development channel, performed financial modeling and implemented several novel strategic programs that benefited the company.
Regis then transitioned his experience from national institutions to small to medium sized organizations. He was the Chief Financial Officer at several start-up corporations where he initiated business relationships, managed company financials, business planning, budgets, forecasts and expense controls. Regis also developed strategies to improve efficiency, risk management, internal controls and compliance in accordance with accounting principles and best practices at a national law firm as a Director of Finance.
Noteworthy
Honors & Recognitions
Redesign to Turnaround Underperforming Small and Medium-Sized Businesses, Regis Quirin (February 2014)
Education
Fordham University, M.B.A.
New York University, B.A., Economics