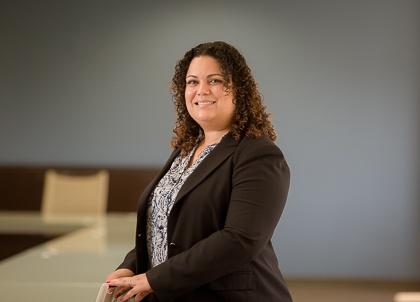 Melinda
Colón Cox
Profile
Melinda C. Cox is a partner at PIB Law and a member of the firm's Executive Committee. She has extensive litigation experience in civil matters, with a particular emphasis on issues in real estate redevelopment, condemnation and land use, in both regulatory compliance and litigation.
Melinda's practice focuses on the representation of financial institutions in the mortgage banking industry in litigation, compliance and regulatory matters, including foreclosures and bankruptcy proceedings, in both state and federal proceedings.
Prior to joining the firm, Melinda served as law clerk to the Honorable Michael A. Shipp, U.S.M.J., in the U.S. District Court for the District of New Jersey, where she assisted with preparing for and conducting preliminary proceedings in civil and criminal cases. She researched and drafted proposed opinions and memoranda, as well as comprehensive reports and recommendations for dispositive motions, in a variety of civil matters, including consumer fraud and debt, securities regulation, fair debt collection, class actions, and labor and employment matters.
Prior to her clerkship, Melinda was an associate at Wilentz, Goldman & Spitzer, P.A.
As a passionate advocate for the law, Melinda has been very active in the New Jersey legal community for many years. She was the president of the Hispanic Bar Association of New Jersey in 2020 and served on its board since 2008. She also co-founded its Young Lawyers Committee. She is a member of the National Women's Law Center Leadership Advisory Committee and serves on the Professional Ethics and Leadership Academy Committees for the New Jersey State Bar Association.
Professional Activities
Community & Professional
Hispanic National Bar Association, Member
New York State Bar Association
Hispanic Bar Association of New Jersey, Membership Secretary (Co-founder of the Young Lawyers Committee)
National Women's Law Center Leadership Advisory Committee, Member
New Jersey State Bar Association
Professional Ethics Committee, Member (2017 to Present)
Leadership Academy, 2016 Graduate and 2018 Selection Committee
New Jersey Women Lawyers Association, Member
New Jersey Super Lawyers Rising Star, 2014-2019
2017 Senate and General Assembly Joint Legislative Resolution by Senator Lesniak, Assemblywoman Annette Quijano, and Assemblyman Holley for Professional Recognition and Praise
2018 Executive Women of New Jersey, Honoree, Salute to Policy Makers Gala
New Jersey Supreme Court Civil Practice Committee, Hispanic Bar Association of New Jersey Representative
New Jersey Law Journal selection, "New Leaders of the Bar," 2019
Publications
Publications
"No One Gets a Free House" – New Jersey's Statute of Limitations Period for Foreclosures Upheld, Hispanic Bar Association of New Jersey, Abogados (Oct. 2015 ed.)
"Yes, We Can!" – Minority Women Attorneys & Politics, 14:3 The Woman Advocate, ABA – Section of Litigation 1 (Spring 2009) (co-authored with Julia Lopez and Erica Rodriguez).
Gallenthin: Reaffirming NJ's Progressive Views on Redevelopment Law, N.J. Lawyer (Jan. 28, 2008) (co-authored with Anne S. Babineau, Esq.).
Practice Areas
Sectors
Admissions
New Jersey
New York
District of New Jersey
Eastern District of New York
Northern District of New York
Southern District of New York
Second Circuit Court of Appeals
Education
Rutgers School of Law - Newark, J.D.
Senior Articles Editor for the Rutgers Law Review
President of the Association of Latin American Law Students
Student Bar Association Class Representative
Co-Chair of the Student Affairs Committee for the Minority Student Program
Union College, B.A., magna cum laude
Clerkships
The Honorable Michael A. Shipp, U.S.M.J., in the United States District Court for the District of New Jersey