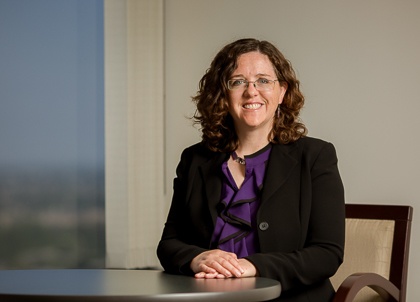 Heather
Stern
Profile
Heather is a partner in the Firm's Orange County, California office, where she focuses her practice on real estate matters and the representation of financial institutions in connection with banking and financial services-related litigation matters.
A seasoned litigator with nearly 20 years of experience, Heather regularly appears in state and federal courts throughout California. Heather's representative litigation matters include lender-borrower disputes over financing of commercial real estate projects, lender-borrower disputes in the residential mortgage lending context, real estate purchase and sale disputes, commercial landlord-tenant disputes, title and neighbor disputes, and construction and environmental litigation matters.
She regularly briefs and argues appeals in state and federal appellate courts, has obtained numerous favorable decisions on behalf of the firm's clients, and has served as an expert witness on the standard of care in handling a real estate dispute. Heather also has a robust real estate transactional practice assisting clients with leasing, financing and acquisitions and dispositions.
Prior to joining the firm, Heather was a partner at Kralik & Jacobs LLP, where she handled real estate matters and commercial litigation cases with an emphasis on lender liability defense and business disputes. Previously, Heather was an associate at Cox, Castle & Nicholson LLP where she handled a wide range of litigation matters, including real estate, construction, land use, and environmental litigation, insurance litigation and general business disputes.
Representative Matters
Representative Litigation Matters
Successfully petitioned for review of environmental cleanup order issued on the basis of client's alleged relationship as successor to a prior entity that owned the site, causing administrative agency to amend the order to omit secured lender client from the order's mandates.
Representation of secured creditor in an SEC receivership action to successfully obtain relief from the injunction so as to foreclose and dispose of asset expeditiously.
Obtained summary judgment in favor of client on all of the plaintiff's lender liability claims, and then subsequently obtained a $6.2 million judgment in favor of her client on its cross-complaint, together with a decree of judicial foreclosure.
Obtained summary judgment in favor of creditor client in a complex adversary case involving novel issues of law concerning the application of FIRREA's jurisdictional bar to a borrower's TILA claims arising out of the conduct of a failed bank. Obtained an affirmance of the judgment, in full, from the district court on appeal.
Representation of a secured creditor in an appeal from a bankruptcy court order denying an objection to a proof of claim. Obtained an order dismissing the debtor's appeal as moot.
Representation of secured creditor in a contested proceeding concerning creditor's motion for relief from the automatic stay to foreclose, and ultimately obtained a memorandum decision in creditor's favor based on testimony and documentary evidence, determining that the burden of proof had been met for obtaining relief from stay in order to foreclose.
Trial counsel in breach of lease dispute, obtaining award for $559,000 in client's favor.
Trial counsel in reformation case, obtaining judgment reforming an erroneous deed of trust so as to allow foreclosure to occur on the correct property.
Trial counsel for defendant lender, in two-week lender liability trial before judicial referee, involving alleged liability for failure to timely disburse funds under a construction loan.
Notable Appellate Decisions
Fox v. JPMorgan Chase Bank, N.A. (2d Dist. Cal. Ct. App. 2019)
Elec. Registration Sys. v. Johnston, 749 Fed. Appx. 601 (9th Cir. 2019)
Kelley v. JPMorgan Chase Bank, N.A., 713 Fed. Appx. 632 (9th Cir. 2018)
Shetty v. Greenpoint MTA Trust 2006-AR2, 735 Fed. Appx. 926 (9th Cir. 2018)
Cotton v. Mortgage Electronic Registration Systems, Inc. (4th Dist. Cal. Ct. App. 2017)
Frazier v. Bear Stearns Residential Mortgage Corp. (2d Dist. Cal. Ct. App. 2017)
US Bank National Ass'n v. Naifeh, 1 Cal. App. 5th 767 (2016)
In re: Modern Alloys Inc. (C.D. Cal. 2016)
Davis v. California Reconveyance Company (6th Dist. Cal. Ct. App. 2016)
Affordable Shelters, Inc. v. Amcal Multi-Housing, Inc. (2d Dist. Cal. Ct. App. 2008)
Morgan Creek Residential v. Kemp, 153 Cal.App.4th 676 (2007)
Lansdale v. Marina Pacifica Homeowners Ass'n (2d Dist. Cal. Ct. App. 2007)
Professional Activities
Community & Professional
UCLA Alumni Association Life Member
CEB Board of Advisors, Member, 2015 – Present.
Women Lawyers Association of Los Angeles (WLALA), 2006 – Present.

President, 2018-2019.
Executive Committee, 2013 – 2020.
Board of Governors, 2009 – Present.

Los Angeles County Bar Association (LACBA), Member, 2001 – Present.

Los Angeles Lawyer, Member, Editorial Board, 2006 – 2015; Coordinating Chair, Real Estate Law Issue, 2010 – 2014.
Co-Chair, LACBA-WLALA Joint Task Force on the Promotion and Retention of Women in the Legal Professions, 2015-2017.

CEB Real Property Advisory Committee, Member, 2007 – 2013.
Noteworthy
Honors & Recognitions
Speaking Engagements:
"Making Your Business ADA Compliant," Civil Justice Association of California.
"California's Anti-Deficiency Laws," client presentation.
"Real Estate Boilerplate Contract Fundamentals," Lorman Educational Seminar.
"Trial Presentation Technologies and Electronic Evidence," IPI Conference.
"Be Careful What You Wish For: Is Binding Arbitration Really Better Than Litigation?," LACBA Trial Practice Inn of Court.
"Exploring the Uncharted Waters of Valuation in Today's Commercial Real Estate Market," Benjamin Crocker Symposium.
"The Lawsuit Is About Boilerplate - Important Considerations of Typical Contract Provisions," Beverly Hills Bar Association.
Published Works:
"How to Use an iPad to Manage and Present Trial Exhibits," Los Angeles Lawyer magazine.
Update Author, "Lender and Broker Liability" (CEB, Chapter 12, California Mortgages, Deeds of Trust, and Foreclosure Litigation).
"Rights in Foreclosure: The National Mortgage Settlement and Homeowners' Bill of Rights provide significant enforcement mechanisms to deter careless foreclosure practices," Los Angeles Lawyer magazine.
"California Property Owners Beware: A New Law Imposes Stricter Penalties For The Failure to Report Entity Reorganizations That Trigger A 'Change In Ownership' For Property Tax Purposes," The Corporate Counselor (LACBA).
Consulting Editor, "California Ground Lease Practice" (CEB, Chapter 14, Condemnation).
"What's the Rent?" Commercial Property News (February 2008).
"Well Grounded: A successful provision for adjusting the rent in ground leases will include a clear appraisal method and an alternative dispute resolution procedure," Los Angeles Lawyer magazine.
Practice Areas
Sectors
Admissions
California
Central District of California
Southern District of California
Northern District of California
Eastern District of California
Ninth Circuit Court of Appeals
Education
UCLA School of Law, J.D.
Columbia University, B.A., cum laude